Gede and Nengah's Story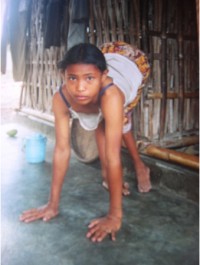 Nengah Widiarsih and Gede Suantaka are brother (Gede is the brother) and sister, both of whom suffered Polio in their early childhood, and have undergone extensive rehabilitation at Pusat RehabilitasiYakkum (PRY) in Yogyakarta, Central Java, and Yakkum Bali (YB) in Bali.
When first found by Yakkum Bali, Nengah, then aged around 12 years was unable to stand and her only method of getting round was on all fours. She had not been to school, as the family were improverished and had no transport, nor the money for public transport, and it was way too difficult for her to "walk" the distance to school.
Her older brother Gede, approximately 14 when "found" by YB, was a little more fortunate, being able to stand upright, but had one paralysed and shorter leg, and his only way of getting round was by using a long bamboo stick as a makeshift crutch, the rough end of which made serious sores in his armpit. After some persuasion, their parents allowed them to be taken to Yogyakarta, where they were operated on, given therapy, counseling and education, and for the first time in her life Nengah was able to stand, with the help of braces and crutches, and look people in the eye instead of her usual view of the world - from the ground!
Gede was issued with a brace with a little platform to rest the foot of his shorter leg on, and an artificial foot, and was delighted and proud to be able to get round much more easily.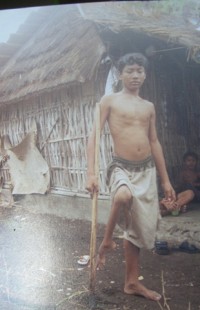 Despite never having been to school, Nengah proved a very bright student and in the 10 months she was in Yogyakarta, learned to read, write and was able to complete studies from basic through to Grade 5! Gede also proved an adept student, and both returned to Bali will increased confidence and self worth, and, sponsored by Yakkum Bali, they were able to continue their education at a school established for those with special needs. Here Nengah topped all her classes, and Gede also passed with good results.
Now 19, Negah Widiasih is currently attending a School for tourism in Nusa Dua, Bali, graduating from 1st year to 2nd year which starts in July, this year. Sadly, though she has had no funding for the last year and has nothing for the coming year starting July, and unless funding is acquired will be unable to continue her education.
Now around 22 Gede is taking lectures for a diploma in Computer Accountancy and Tax, and hopes to continue on to take a degree, if funding can be raised.
Meanwhile, with the physiotherapy received in Yogya and since, both of them developed great upper strength and have competed in Regional and National championships for weight lifting, with Nengah consistently winning Gold and Gede winning Gold and Bronze. Nengah also represented Indonesia in the 2008 ASEAN PARA GAMES in Thailand where she won Bronze.
To maintain their independence these two siblings still require a lot of monetary support. Nengah aspires to becoming a psychiatrist while Gede wishes to continue college to obtain his degree.
Yakkum Bali is extremely proud of how these two have overcome severe disabilities despite the abject poverty they lived in before rehabilitation. Yakkum's task now is to assist expedite the dreams of the amazing sister and brother pair to become reality.
They are just 2 examples of the physically disabled who have received assistance with rehabilitation and just as importantly, sustainability. Meanwhile there are approximately 11,000 more physically disabled on record in Bali, who need help with empowerment.
Yakkum Bali still has a long way to go in serving people with disabilities. Thanks to their many supporters, the wider community, especially ALF (the Anika Linden Foundation,) and the collective efforts of all above, Yakkum Bali is able to serve increasingly greater numbers of people with disabilities in Bali, with a higher level of service.
Happily, the local government too, is now focussing more awareness and resources on needs of people with disabilities